Join Burnt Lake Outfitters On A Whitetail Deer Bow Hunt
BOWHUNTERS CAN TAKE ADVANTAGE OF ZERO HUNTING PRESSURE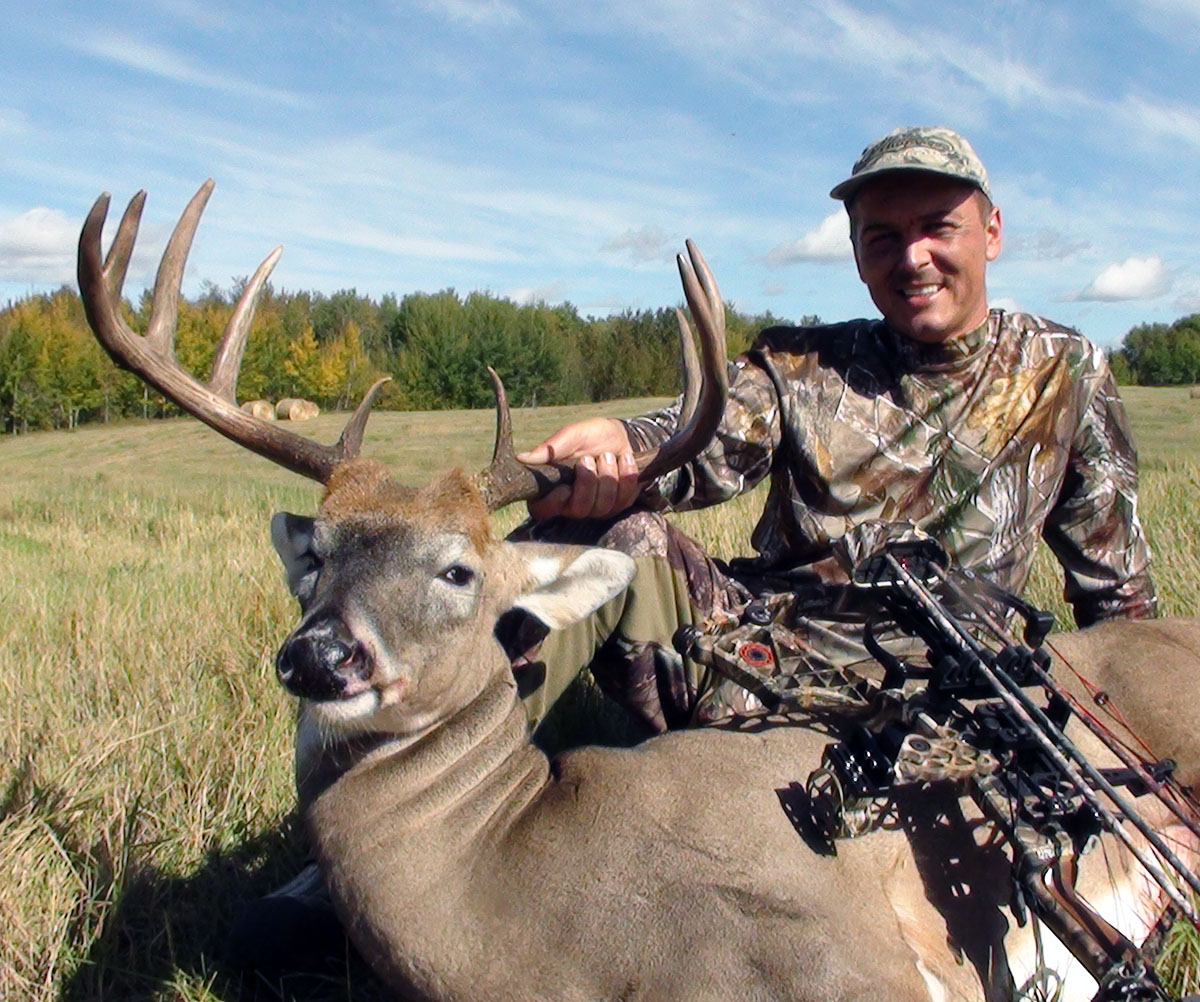 Why Book Your Whitetail Deer Bow Hunt With Burnt Lake Outfitters?
With access to an area that is all exclusive to Burnt Lake Outfitters, bowhunters can enjoy many prime stand sites, great lodging and a true taste of bowhunting Alberta's trophy whitetail deer .
Bow hunt trophy whitetails in Alberta's top big buck area of Northeast Alberta. Whitetail deer hunters return each year to hunt for trophy whitetails. Many P&Y and B&C bucks are taken with body sizes over 300 lbs. and heavy dark horns. These mature bucks make for a great trophy mount.
We hunt one of the best whitetail hunting area in the province
We provide personally guided hunts to ensure a quality hunt
Mature bucks can grow well over 300lbs
Harvesting a 150 B&C or better is excellent
Whitetail bucks reaching the 200+ inch mark are possible
No hunting pressure
Excellent Management System
Personally guided trophy whitetail deer bow hunts in Alberta's top big buck area of Northeast Alberta.
With very limited bow tags in Alberta's top trophy whitetail areas, bowhunters can take advantage of zero hunting pressure and hunt the same areas as rifle hunters.
In the beginning of archery season, we generally pattern deer movement to their feeding areas. During the pre-rut stage and beginning of the rut, deer movement is more frequent but can still be patterned right up to the end of bow season.
All whitetail deer bowhunting is done mainly by tree stand and ground blinds. Rattling, grunting and calling can be very effective to call the bucks in to range. All methods for hunting these trophies work well and bow hunters can shoot effectively at 40-60 yards away with the right set up.
Camp is located 2 1/2 hours northeast of Edmonton in Alberta's lakeland region which borders the Boreal Forest. Excellent agriculture, lakes, rivers, and heavy cover makes this a prime area for letting bucks reach full potential. All hunts professionally guided with no more than two hunters at a time. Adding a trophy mule deer tag is an option on this whitetail deer bow hunt
The whitetail deer bow hunting season runs from September 10 to October 31. Bow season is three weeks longer than rifle season so bow hunts are all exclusive. We offer 8 day and 10 day deer hunting packages. Offering these exclusive archery whitetail deer bow hunts gives you a true taste of hunting Alberta's north.
Book Your Next Whitetail Deer Bow Hunt in Alberta, Canada